Well i stopped by a Rite Aid near my house this am after dropping Michael off at work-both kids in tow-and they would not take my BOGO coupons on top of the BOGO sales:( So i headed home, but on the way saw a Walgreen's and decided to drop in:)
For $3.43 OOP i got: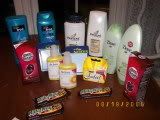 2 post it notes (.39 each)
2 M&M Premiums (2/$8)
Bic Soleil Razor blades ($6.99)
3 Milky Way bars (.39 each)
Dove Shampoo and Conditioner (2/$4.99)
Pantene Shampoo and Conditioner ($6.99 each)
Sunsilk Shampo and Conditioner ($2.29 each on clearance)
2 St. Ives cleansers ($4.99 each)
Total before coupons w/tax $69.42
BOGO M&M coupon (-$3.71)
EasySaver $2/2 M&M coupon
EasySaver $2 off Bic coupon
Bic $3/1 coupon
2-$2/1 Dove coupons
2-$6/1 Pantene coupons
2-$1.50/1 Sunsilk coupons
BOGO St. Ives coupon (-$4.99)
3-$5 RR
paid $3.43 OOP(I tried to use more RR but i had reached my limit)
After we picked up Michael, we stopped by a different RA. (I called ahead and they said if the computer accepted the coupons, they didnt have a problem with them!!!)
For $0 OOP($10.01 on a RA giftcard i received fro transfering a Rx..)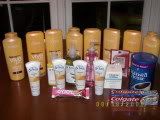 8 Loreal Vive Hydra Gloss Shampoos and Conditioners ($4.99 BOGO)
Maxwell House coffee for Michael ($5.29)
Colgate toothpaste ($1.99)
BeFine mask ($1.99)
SoyJoy bar (.99)
L'Oreal moisturizer ($7.99 BOGO cleanser free)
Skin Genesis cleanser (FREE)
2 St Ives face washes ($6.99 BOGO)
4 St Ives travel sized lotions (.99 BOGO)
Total before coupons $44.47
4 BOGO L'oreal Vive coupons (-$4.99 each)
$5 off Maxwell House RA coupon
$1.50/1 colgate coupon
$5/1 BeFine product
.39 off SoyJoy bar
$1/1 L'oreal cleanser
BOGO St Ives elements coupon (-$6.99)
2-$1/1 St Ives lotion coupons
Total after coupons $7.71, put on GC so i paid NOTHING OOP!!!!!!
So, today i got over $100 worth of items for under $4 OOP!!!!!